St. Viator College
St. Viator College was a Catholic institution of higher education founded 1865 in Bourbonnais, Illinois by the Viatorians. St. Viator College had a preparatory department and high school in addition to the college and seminary. Under financial pressure, it closed in 1939.
St. Viator's grew out of the original village school, in 1865 to an academy for boys with the help of Father P. Beaudoin and Brothers Martel and Bernard, and in 1868 to a four-year college with the aid of Father Thomas Roy. After nine years of work, Father Roy, after whom Roy Memorial Chapel was named, returned to his home in Canada, and was succeeded by Father M. J. Marsile, who oversaw the College for another 25 years. Marsile Alumni Hall was named in his honor.
In 1906, several buildings were destroyed by fire, but courses continued in improvised quarters and new buildings were erected. Father Marsile afterward resigned, and Reverend J. P. O'Mahony C.S.V. was appointed president. For most of its years, the College had an enrollment of over 300 students. Many of the College's graduates were priests, but even more entered the professions of law and medicine. During its existence, St. Viator was the host of the Catholic State Basketball Tournament for Illinois.
After St. Viator's closed in 1939, the campus was purchased by Olivet Nazarene College.
Sheen attended St. Viator College in Bourbonnais, Illinois from 1913-17

Fulton Sheen's Graduation Picture from St. Viator College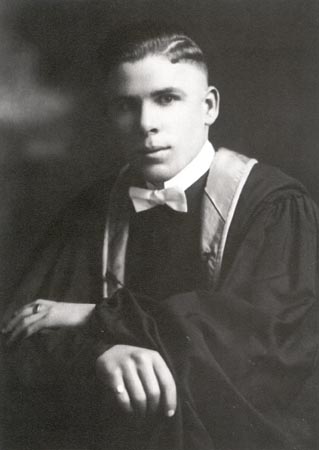 Student Picture at St. Viator College

Debate Team at St. Viator College (Sheen on right)